Centre of Excellence in Trauma Care Sainte-Justine Private Schools Youth Challenge
Each year, CHU Sainte-Justine's emergency department receives 12,000 accident victims, which represents approximately 15% of all emergency room visits. Of these, 1,200 are admitted to intensive care to receive acute critical care
Trauma care is the art and science of making the most of those few minutes, and even seconds, in which a child's future hangs in the balance. This discipline endeavours to reconcile the need to act as quickly as possible with the need to act as effectively as possible to minimize the damage caused by and consequences of an accident.
Thanks to you and your donations, the CHU Sainte-Justine's trauma program has reached new heights of excellence on a number of fronts. These include having the means to renew and upgrade the equipment used by the trauma teams, which will help gain precious seconds; establishing closer ties between treatment, research and training to ensure that medical advances are swiftly translated into care for patients; putting the focus on greater multidisciplinarity within the program (emergency, pediatric surgery and neurosurgery, orthopedics, nursing, social work, psychology, etc.) in order to be prepared at all times for all eventualities; continuing to anticipate the needs of families to ensure the human and social repercussions of an accident are never neglected; and lastly, being able to fund innovative research projects.
The real key to excellence in trauma care is having the wherewithal to make the right decisions at the right moment. That is why we are concentrating on continuously optimizing our approaches to acute critical care. By focusing on open communication and flexible procedures, we are making sure everyone's expertise contributes to making an informed decision during those first critical seconds.
National Bank Research Chair in Cardiovascular Genetics
The genetic origins of congenital heart-related abnormalities that affect close to 900 children in Quebec are unknown in approximately 90% of cases. A better understanding of the causes will allow us to precisely personalize the treatment for each patient.
The National Bank Research Chair in Cardiovascular Genetics, held by Dr. Gregor Andelfinger, pediatric cardiologist with the CHU Sainte-Justine and associate research professor in the Department of Pediatrics at the Université de Montréal, has made some major breakthroughs in the field since it was created in June 2014, thanks to your donations.
Through the discovery of certain genes and the definition of several rare diseases, the Chair has confirmed and strengthened the CHU Sainte-Justine's position as a world leader in cardiovascular genetics. Among the new opportunities that have opened up are the acquisition of technologies for decoding the genes responsible for these diseases and the expansion of a cardiovascular disease tissue sample biobank. The results of this research will contribute to saving even more children, using ever more effective techniques!
Always forward-looking, Dr. Andelfinger is now working on the identification of mechanisms underlying genetic cardiovascular diseases with the goal of developing new therapies. Nature's own biological programs now inspire him how to engineer tissues from the patients' own stem cells for the repair of damaged hearts.
"I believe in my heart that the future of our children, our families and our society as a whole is contingent on research. It's very rewarding to know that we can actually make a difference in people's lives. I have the best job in the world."
– Dr. Gregor Andelfinger
pediatric cardiologist
and researcher
Dr. Gregor Andelfinger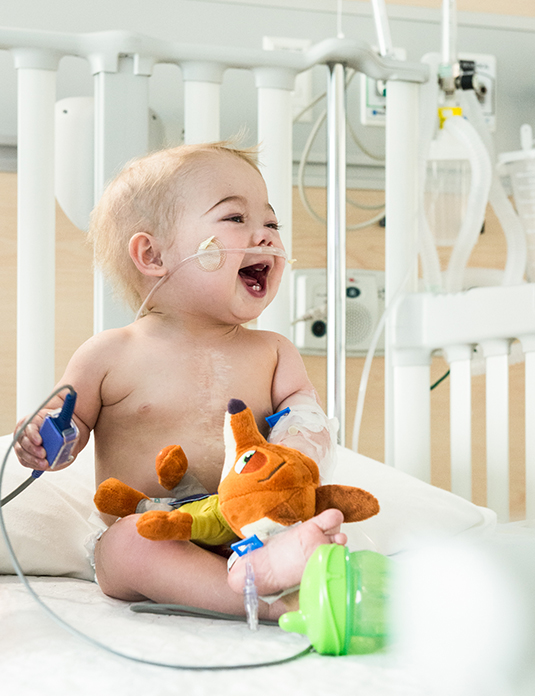 Charlie, 2.
Cardiovascular Prevention and Rehabilitation Centre (CIRCUIT)
Overweight and obesity now affect 30% of children and adolescents in Quebec, which is three times more than 30 years ago. Considered adult problems until only recently, some cardiovascular diseases and type 2 diabetes have become major sources of concern at the CHU Sainte-Justine.
In 2010, to reverse this trend, Drs. Jean-Luc Bigras and Mélanie Henderson brought together a team of cardiologists, endocrinologists, kinesiologists, nutritionists and epidemiologists. This was how the Centre of Excellence for Cardiovascular Prevention and Rehabilitation (CIRCUIT) came to be. As a result of your support for the Healing More Better campaign, we have been able to significantly expand this project since 2013.
CIRCUIT provides personalized treatment to children at risk of developing chronic conditions, by giving them tools to encourage them to be more active in their daily lives. The Centre works to prevent and control cardiovascular diseases and type 2 diabetes risk factors in the family and social environment of children and adolescents.
The youngsters concerned are received at the CHU Sainte-Justine and followed for at least two years, which gives the CIRCUIT team the opportunity to track the evolution of their condition, evaluate the effectiveness of its actions, make improvements and orient its research.
CIRCUIT also offers free supervised training sessions, as well as a wide variety of monthly activities. The CIRCUIT Financière Sun Life web portal provides a wealth of information to all Quebecers.