Care and the humanization of care
State-of-the-art equipment, advanced technology, new and revolutionary treatments combined with tender loving care and a human touch—it's all part of Healing More Better.
Use of laser to improve neurosurgical procedures
for young patients 
In December 2016, Dr. Alexander Weil, a pediatric neurosurgeon at the CHU Sainte-Justine, was the first in Canada to use a neurosurgical laser to treat a child with epilepsy. This revolutionary equipment was acquired thanks to your generous donations.
"Thanks to the level of precision that this technique allows, and our ability to observe the treatment in real-time via magnetic resonance imaging, this new technology lets us offer a less invasive and safer alternative, especially for those patients who cannot undergo conventional surgery or who might suffer damage to healthy areas surrounding a tumour or an epileptic lesion," stated Dr. Weil. "Waiting times are also reduced considerably, because the patient does not need to be admitted to intensive care and extended hospitalization can be avoided," he added.
This laser is a true ray of hope for patients with inoperable tumours or who suffer from drug-resistant epilepsy.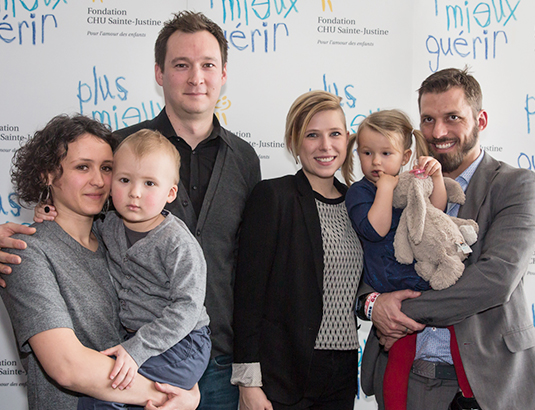 Dr. Clown, prescribing TLC
The Dr. Clown initiative aims to brighten the lives of hospitalized children through visits from therapeutic clowns.
The program plays a vital role in the humanization of care at the CHU Sainte-Justine. The presence of a clown at a young patient's bedside lifts their spirits and greatly reduces the stress of being in hospital, both for them and their parents.
Your generosity enables these very special "doctors" to continue prescribing an affectionate dose of tender loving care, smiles and laughter to lift the children's spirits. 
Love of children without borders
Your support has meant that teams from the CHU Sainte-Justine, such as those working for Sainte-Justine au Cœur du Monde and Mission Sourires d'Afrique, have been able to lead missions abroad, sharing their expertise in pediatric health and operating on hundreds of children.
Your generosity has allowed our specialists to prove—once again!—that the love of children transcends borders.
Lucie Ferland, a CHU Sainte-Justine's clinical nurse, in one of their Mission Sourires d'Afrique.
Research
By investing in research, Healing More Better is making it possible to achieve faster breakthroughs, attract and retain the best research scientists, and provide them with the means and an environment conducive to innovation.
Genetics and genomics
Healing More Better
Quebec is home to a significant number of children living with rare genetic disorders. In fact, one in 15 Quebecers has genetic condition that will become symptomatic later, during adolescence. Some 50,000 children and their families are currently affected.
Decoding the entire genome of an individual in just a few days at a low cost, directly screening all genes for mutations simultaneously and developing treatment strategies based on knowledge of the gene are all now possible thanks to the Integrated Centre for Pediatric Clinical Genomics, the first of its kind in Canada. Established at the CHU Sainte-Justine in October 2013 in partnership with Génome Québec, the centre is revolutionizing the study of these diseases and providing hope for children living with rare genetic conditions, as well as their families.
Eleven-year-old Daniel has congenital lactic acidosis. The lack of an enzyme called pyruvate dehydrogenase causes lactic acid to build up in his blood. Because the basal nuclei in Daniel's brain do not function as they should, he tires very quickly, has trouble coordinating his hands and feet, and experiences difficulty speaking. He manages to walk short distances with braces, but needs a walker or a wheelchair for longer trips. Attending school is impossible for him without specialized assistance. What helps Daniel most at the moment is a ketogenic diet, which is rich in fat.
Over 7,000 rare genetic diseases like this one have been identified, but the underlying gene remains unknown in half of them. Your gifts have led to the creation of the CHU
Sainte-Justine Rio Tinto Alcan Centre for Rare Genetic Disorders, headed by geneticist Dr. Jacques L. Michaud.
The benefits of this centre have been immediate: faster diagnoses, prompt knowledge transfer to the patient's bedside and improved communication between health care providers and researchers with a view to developing new treatments.
Dr. Michaud recently discovered the exact origin of Daniel's illness, bringing hope that more and more children suffering from rare diseases will one day enjoy a better quality of life.
The applications of genomics are by no means limited to rare diseases. As a result of the expertise developed at the CHU Sainte-Justine, the possibilities are almost endless, notably in terms of targeted cancer therapy. And thanks to you, we are able to explore them!
Curing liver disease through regenerative medicine
Every year, 400 liver transplants are performed in Canada and 5,000 patients die of liver disease. Due to the limited number of organ donors, potential long-term complications and the need for lifelong antirejection treatments, research remains key to fighting liver disease in children.
Through the leveraging effect of your donations, in November 2017, Dr. Massimiliano Paganelli, a clinician and researcher at the CHU Sainte-Justine, received significant government funding for his innovative work on the treatment of liver disease.
The ultimate aim of his research is to be able to cure liver disease in children through regenerative medicine and eliminate the need for an organ transplant. The treatment consists of cell therapy that will allow patients to be transplanted with their own liver cells (which have had their genetic mutation corrected) or tiny livers to be grown from stem cells, which can then be transplanted into patients through non-invasive surgery without the subsequent need for antirejection drugs.
Rémy, who has a rare genetic disorder, or "orphan" disease, was only seven months old when he received a liver transplant in March 2016. Although it was his mother who donated part of her own liver and the transplant was a success, he will still need to take antirejection drugs for the rest of his life. Rémy's family agreed to take part in the studies being conducted by Dr. Paganelli and his team. Using the little boy's cells, scientists created a tiny laboratory-grown liver and are using it to develop treatments that will enable other children to avoid transplants in the future.
As a result of your support, Dr. Paganelli can pursue his line of research and invest maximum funding and efforts into his work, to make a difference to the lives of thousands of children like Rémy as soon as possible. Thank you for helping to expand and advance scientific knowledge!
Video available in French only.
Start-up funding and
excellence scholarships 
Your commitment to the Healing More Better campaign helped the CHU Sainte-Justine Research Centre to allow grant start-up funds to young scientists ranging from $25,000 to $250,000.
The money can be used to set up a first laboratory, for example, or to hire the staff required to perform the crucial exploratory phases of research, laying the foundations for a bright and exciting future.
Research excellence scholarships are also awarded to outstanding students who undertake high-potential research projects. Great hopes are pinned on these students and fellows whose skills and determination will help drive progress and innovation in pediatric care.
Teaching
Scholarship programs for the next generation of physicians, nurses and other health care practitioners are designed to facilitate the transfer of this precious knowledge, which allows us to heal more children and heal them better.
Grants for excellent training
The CHU Sainte-Justine's mission of excellence relies to a large extent on the training of highly specialized experts and the continuing education of its staff to upgrade their skills.
Postdoctoral training grants are available for talented pediatric clinicians who have completed their residency and want to specialize further.
Specialized training program grants are open to members of health care teams wishing to build on existing skills and bring expert knowledge to their practice. This helps to create highly effective care teams who make use of specific abilities.
TD Bank grants for professional development in nursing are awarded to nurses wishing to upgrade their expertise, pursue research activities or disseminate new knowledge.
Nurses recognized internationally by MÉLÉPI project
Bolstered by the exemplary support of our donors, the MÉLÉPI project, a model for the scope of nursing practice, is designed to give all our nurses the opportunity to develop their skills and practise their profession with autonomy and leadership, in step with the latest medical developments.
As a result of your support, our nurses are today recognized worldwide as leaders in the production, integration and sharing of new knowledge.