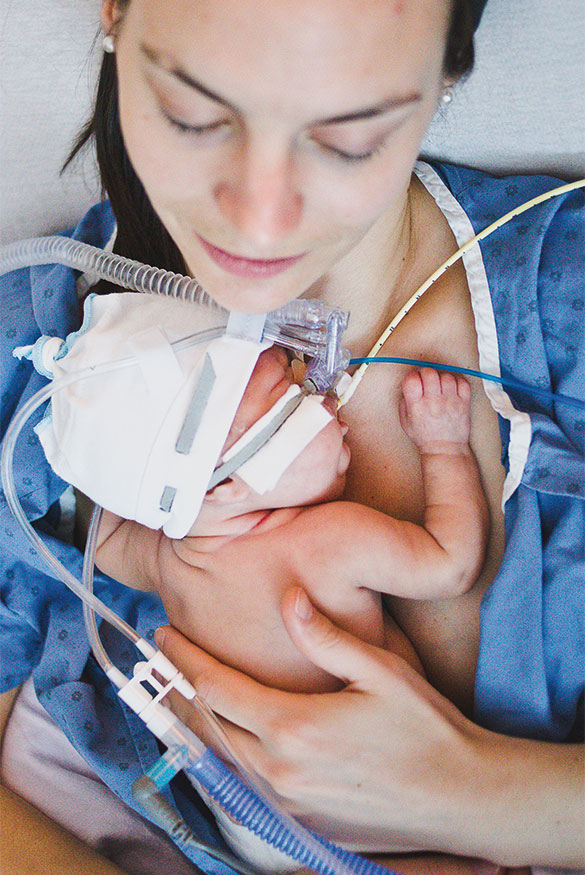 Centre of Excellence for High-Risk Pregnancies and Prenatal Assessment
Each year, close to 4,000 babies are born at the CHU Sainte-Justine. Most mothers who give birth there are followed at the Maternal Fetal Medicine Clinic, formerly known as the High-Risk Pregnancy Clinic (clinique GARE).
These women already had health problems before their pregnancy, and they or their babies sometimes develop complications, such as an infection or a growth restriction, during the pregnancy.
With your support, the Centre of Excellence for High-Risk Pregnancies and Prenatal Assessment was able to integrate a test centre into the Maternal Fetal Medicine Clinic, thus reducing back-and-forth trips and the risk of infection for mothers, as well as making it easier for them to participate in research projects.
The development of a preimplantation diagnosis for embryos conceived in vitro at the Centre allows parents who are carriers of rare genetic diseases to give birth to healthy babies. And because you contributed to the acquisition of highly specialized fetal therapy equipment, such as ultrasound probes, the lives of many newborns have been saved, despite their being preterm or in a fragile state of health.
The Centre is also developing a website that will provide validated information on pregnancy complications. A database integration system to facilitate research and to improve practices is also being implemented. This will help us evaluate our protocols and constantly improve the quality of our care.
Centre of Excellence in Neonatology
Every year, 8% of infants born in Quebec are premature, and of those, 3% suffer from congenital defects. The CHU Sainte-Justine's neonatal intensive care unit cares for more than 1,100 babies most seriously at risk, a third of whom are transferred from another hospital. Our facility treats all malfunctioning systems, whether respiratory, cardiovascular, renal, hepatic or cerebral. Our teams perform miracles!
In December 2016, the CHU Sainte-Justine's neonatal intensive care unit was expanded and moved to a brand-new building in the hospital. This unit has 65 beds, making it the largest of its kind in Canada. With profound love and respect, we watch over 27 intensive care bassinets that hold extremely premature babies and those born with complex conditions.
Your donations to Healing More Better have contributed significantly to advances in the understanding, prevention and treatment of these tiny newborns suffering from conditions linked to significant and extreme prematurity.
Thanks to your gifts, we have been able to form a control group of mothers and infants, to follow the development of these children from the moment of conception to adulthood. Because coming into this world ahead of schedule can have an impact on development well beyond 18 years of life.
What's more, we're now better equipped to treat brain damage that occurs in the first weeks following birth and to recruit leading researchers to accelerate discoveries in genetic predispositions to certain diseases.
And we always work together with the parents, never losing sight of the importance of the human aspect.
Canadian Newborn Brain Imaging Platform
A newborn's brain is exceedingly fragile. Extreme prematurity, birth asphyxia or congenital cardiac defects make an infant more susceptible to brain damage, which can often occur in a fraction of a second. In many cases, these complications lead to cerebral palsy, autism, severe hyperactivity or developmental delays.
"Preventing brain injury at birth may change an entire life," says Dr. Gregory Lodygensky, clinical researcher and pediatrician, and head of the Canadian Neonatal Brain Platform, created in March 2015.
Supported by your contributions to our major campaign, this platform is proving an exceptional tool. Because it brings together 25 specialists from four hospital research centres and three universities, this pan-Canadian imaging registry is able to provide access to thousands of images of the brains of newborns. Because up until now, doctors and researchers could gather, at best, some 200 images of the brains of newborns to carry out their work, this platform represents a true revolution in this area. 
"The Canadian Neonatal Brain Platform places specialists in a better position to detect, diagnose and identify interventions that are truly customized to a child's condition," said Dr. Lionel Carmant, a neurologist and researcher in the fields of epilepsy and neurodevelopment at the CHU Sainte-Justine.