This year Léanie enrolled in an international baccalaureate program and Alice is a bundle of energy who grabs life by the horns—and doesn't let go!
Léanie and Alice with their big brother, Félix.
Straight from the Heart
February 15, 2005, is a date that will remain etched in Eve and Sébastien's memories forever. That was the day the young parents of one-year-old Félix and three-month-old Léanie showed up at the CHU Sainte-Justine's emergency room with their baby in their arms.
Léanie appeared to be suffering from a routine infection that was slow to heal, but the team at Sainte-Justine suspected something else was amiss. Her condition was deteriorating at an alarmingly fast pace. She quickly became lethargic and refused to eat. Then she lost consciousness. It turned out her heart wasn't pumping enough blood to the rest of her body. The verdict: dilated cardiomyopathy, a rare disease characterized by a weakened heart muscle.
They almost lost her, more than once. Léanie's tiny heart was on the brink of giving out. Her mother chokes back the tears as she tells the story. "As I came into the ICU, there were a bunch of lights flashing and alarms going off, and about 15 people in her room. That's when it dawned on me that it was my baby they were all in there working on."
The fast response by the intensive care staff and the cardiologist in charge of Léanie's case saved her life. But that was just the beginning of a 12-year journey during which that very cardiologist, Dr. Gregor Andelfinger, practically became a member of the family.
The team pulled out all the stops for several weeks straight to understand what exactly was happening to Léanie's heart and to gain the upper hand over the disease. They suspected a genetic cause, but test after test revealed nothing of the sort. They concluded that whatever was wrong with Léanie wasn't hereditary. Reassured, Eve and Sébastien decided to go ahead and have a third child.
But Eve continued to harbour concerns during her pregnancy and insisted that the fetus be tested. Nothing showed up. And when Alice was born, she seemed to be the picture of health. But five weeks later, an ultrasound revealed that she shared her sister's heart defect and wasn't pumping enough blood to her extremities. Because the condition was caught early and stabilized, Alice's development wasn't adversely affected.
But the second appearance of the disease was a shock for her parents—and Dr. Andelfinger. Despite extensive research, he found no similar cases anywhere else in the world. Driven by a deep-seated desire to understand the situation and backed by the Healing More Better campaign, he pushed his pediatric cardiology research to the next level. Using new decoding technologies, he finally pinpointed the cause: an extremely rare genetic mutation carried by both Eve and Sébastien and, as luck would have it, passed down to their daughters. At that point, Dr. Andelfinger was personally invested and refused to stop there. He promised to unravel the mystery before Léanie and Alice grew into adulthood, in case there was a chance for a relapse later in life. He also wanted to see if they could eventually stop taking the drug he had prescribed, since it might keep them from having children of their own.
Despite these trials and tribulations, the family has remained strong and hopeful. Léanie is now enrolled in an international baccalaureate program and Alice is a bundle of energy who grabs life by the horns—and doesn't let go!
Listening to Léanie speak with such passion about her high-level gymnastics classes or Alice animatedly describing her acting roles—and seeing the gleam of pride in their parents' eyes as they do—it's clear what a wonderful success story this is. One day, we may even see a cure. And it's all thanks to you!
"I Wish They'd Just Invent a Pill to Cure My Cancer"
Twelve-year-old Laurent doesn't remember much about the past three years of his life. Most likely because his road has been a particularly bumpy one. And, besides, he'd much rather focus on the future.
It all started with a "bad stomach ache" that interrupted a family supper in September 2014. It wasn't terribly worrisome at first, but the pain kept coming back and getting worse—bad enough one night to keep him from sleeping. When his parents found a lump in his abdomen, they knew it must be serious.
In the emergency room, they were given the shocking diagnosis: liver cancer. And they had to act fast. The tumour was growing at an alarming rate.
The months that followed saw one setback after another. The intensive chemotherapy sapped Laurent of all his energy and made him sick to his stomach. He couldn't hold down any food and spent the rest of the fall in bed. Then there were two liver transplants in less than two weeks. Wearily, he voiced his wish for a pill that would make his cancer go away, just like a headache. It seemed like a wild idea at the time, but it turned out to be somewhat prescient.
Meanwhile, Laurent was not lacking for love or attention. From his parents, naturally, but also his big brother, Olivier, who hung out with him at the hospital every evening to keep his spirits up. There were also his teachers and classmates whose heartfelt messages continued to pour into his bedside "mailbox." And last, but certainly not least, there were the doctors, nurses and support staff whose attentive care and good-natured hijinks brought a ray of sunshine and peals of laughter into Laurent's world to brighten even the darkest day.
By the time spring rolled around, he seemed to have turned a corner, or so his family hoped. But they hadn't seen the last of the cancer. "We thought the scans looked good. We were just about to allow ourselves to use the word 'remission,' when something showed up in his lungs," says Dr. Monia Marzouki. Back to chemo. That's when Dr. Marzouki suggested that Laurent be enrolled in an experimental study. It would involve a biopsy and an in-depth analysis of his cancer cells at the genetic level using highly sophisticated equipment. This would shed light into how the disease was progressing in order to zero in on its weak spots.
The study results were heartening. A year later, as the cancer was resistant to conventional treatment, the decision was made to take a gamble on a new "targeted" form of therapy, which had been advancing in leaps and bounds thanks to the Healing More Better campaign. It proved to be the breakthrough they were looking for. Laurent's long-awaited "little pill" actually made the cancer retreat. He was able to go back to school and spend time with his friends. "When I was doing the heavy-duty chemo, I couldn't get out of bed. But with this, I could go outside and do lots of things," Laurent explains.
Laurent has since completed the final phases of his treatment. His liver is working like a charm and the last scans of his lungs were very promising indeed. He's looking forward to putting it all behind him and leading a normal life. Soccer tryouts are coming up and he's working hard to get on the team. He will also be enrolling in a special sports-oriented program at school that he was very keen on. As his father says, "There's no keeping him down. Laurent knows what he wants in life and he goes out and gets it!"
It's still not quite the miracle cure he was hoping for, "but it's pretty close," says his mother. Research in this field is just starting to pay off. And the initial results are transforming Laurent's wish into a message of hope for all young cancer patients.
Laurent has survived liver cancer, thanks to a target therapy.
Laurent with his loving and supportive parents, Hélène and Réal.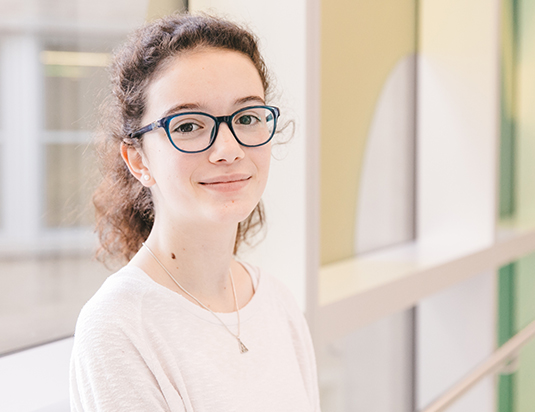 "The fact that it worked out so well for me will make it easier for other kids who have the same operation," says an overjoyed Mathilde.
Mathilde and her mom, Anne-Julie.
Mathilde's Story, or How to Push the Frontiers of Medicine
It was fall 2015. Mathilde and her mother, Anne-Julie, were out on a shopping spree. A recent growth spurt had left the teenager with nothing to wear. That's when Anne-Julie first noticed that Mathilde's posture looked "crooked."
The worried mom took her in for a checkup, where the doctor confirmed an advanced case of scoliosis. As Mathilde had shot up in just a few weeks over the summer, a 45-degree curve had formed at the base of her spine. She was immediately referred to the scoliosis experts at the CHU Sainte-Justine.
It was at Sainte-Justine that Dr. Stefan Parent and his team had introduced a leading-edge surgical procedure known as spinal growth modulation about a year earlier. Following an in-depth assessment, Dr. Parent determined that Mathilde was a good candidate for this new therapeutic approach. It was still at the experimental stage, with the risks and uncertainties that came with it, but it seemed like a promising avenue, especially since it could be done immediately. Mathilde was relieved that the other option was off the table: she wouldn't have to endure several years of a brace followed by complex (and painful) spinal fusion surgery. "We didn't hesitate for a moment," her mother recalls. "We thought it over and quickly came to the conclusion that growth modulation was the best option."
The instant trust that developed between Dr. Parent and Mathilde's family made the decision that much easier. "He's got a great bedside manner," says Anne-Julie. "He put us at ease right away and laid all his cards on the table. I really appreciated how straightforward he was with us throughout the process."
The state-of-the-art technology involved was also a deciding factor for Mathilde and her family. Expert engineers had worked closely with the Sainte-Justine team to develop an innovative system to model the spinal column. This made it possible to generate a 3-D image of Mathilde's spine and predict the impact of the growth modulation procedure. It was very reassuring for her to have a better idea of what she could expect.
The operation took place in late winter 2016. And in only a few hours, the curve in Mathilde's spine went from 45 degrees to 15—an overwhelming success by any measure.
A few months later, there were no longer any signs of scoliosis. Amazing!
What makes this achievement even more extraordinary is that the recovery time is remarkably short and the pain involved is minimal, considering major surgery is involved. After only a few days in the hospital, Mathilde was able to walk and even go up and down the stairs without any difficulty. In fact, the nurses had to keep telling her to slow down. But Mathilde was raring to go. She wanted to get back to school, see her friends and live her life. Only a month later, she had resumed her normal activities, which included jumping on the trampoline and hitting the amusement park.
Mathilde is overjoyed with the results: "The fact that it worked out so well for me will make it easier for other kids who have the same operation." How right she is! By pushing the frontiers of medicine, the team of experts at Sainte-Justine and the young patients who rely on them are acting as beacons of hope.
Thank you, Mathilde, for blazing the trail that many others will continue to follow in the years to come.